---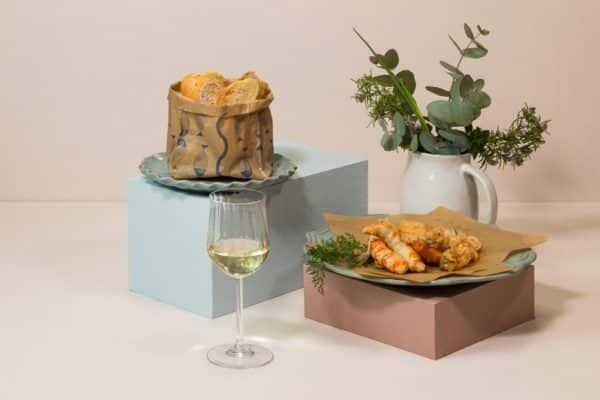 Ho.Re.Ca and Street Food
Many packaging types for every need
The hustle and bustle of modern life increasingly brings people to spend the whole day out of the house and often eat and dine in cafeterias, fast-food joints, restaurants…or even on the street!
Our greaseproof product lines Glisser and Olà, Easy Box and Zip & Strip include a varied and customised packaging range and are the best partners for the catering and street food industries.
Glisser and Olà for fried food
When it comes to fried, oily foods, the packaging must have an extra edge.
Glisser is greaseproof white kraft, classic and stylish.
Olà is a brown kraft packaging boasting maximum resistance to grease and offering a stain-proof guarantee for the consumer.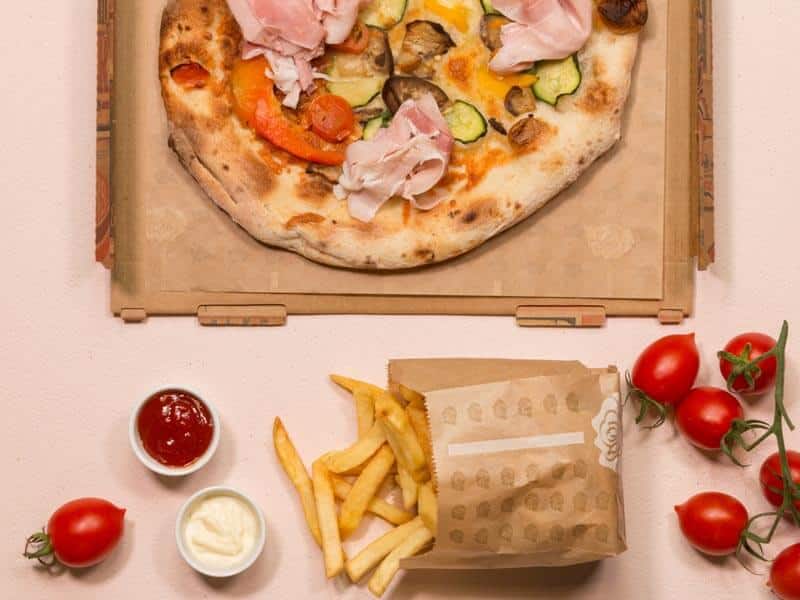 Olà, the new grease paper suitable for contact with food
Olà is a great substitute for traditional grease paper, with several advantages:
is suitable for direct contact with any food;
it is more lightweight and eco friendly;
it's more versatile;
it can be used directly in a traditional oven, in the microwave and on a hotplate.
For fried foods such as vegetables or fish, you can place the food from the deep fryer basket directly on the wrapping to absorb the excess oil, then transfer it into the wrapping or bag used for serving.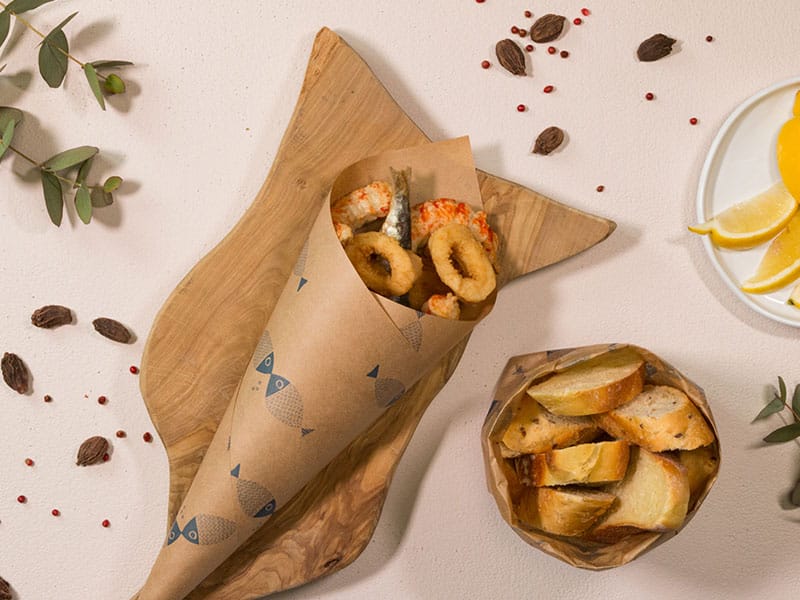 Food that is always hot and crispy
Olà allows you warm up its contents both in a traditional oven (up to 150° for 20'), in the microwave (at 600W for 2') and on a hotplate ( up to 220°C for 5′).
This translates into a real advantage for the Ho.Re.Ca. sector, as bread baskets can be prepared before the start of service, and warmed up on the spot so as to serve bread that's always warm and fragrant.
It is also a very practical take-away solution for serving consistently hot and crispy fried food.
Olà is perfect for Street Food
So that your customers can enjoy the tastiest flatbread, the most succulent burritos and the most flavourful kebabs without the risk of getting their hands and clothes dirty, use Olà bags and paper, with superior resistance to oil and grease.
Wrap your flatbread in Olà paper or place it in a bag to ensure your customers enjoy a safe takeout …with no stains.
For hamburgers, we have developed a special format: Paniké, specifically designed to be practical and functional.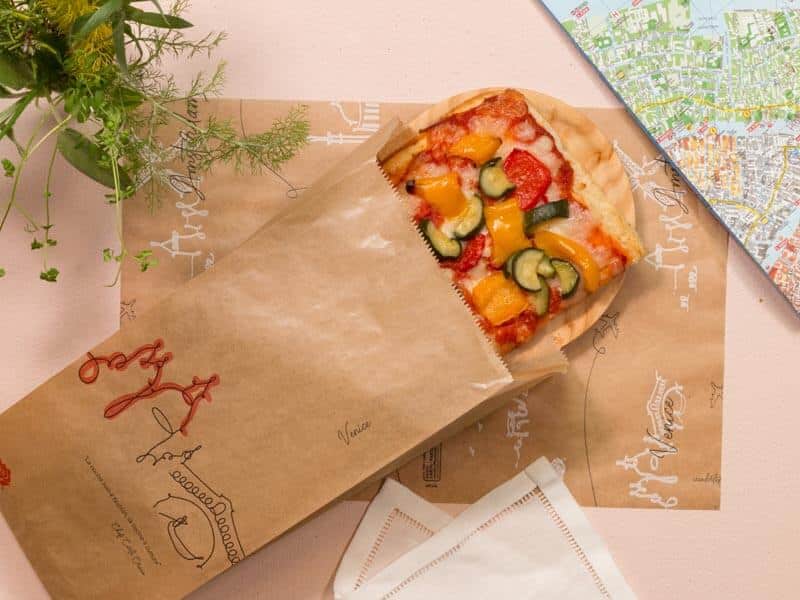 Olà is ideal for pizza and focaccia
To serve your tasty focaccia with lots of olive oil you can use Olà greaseproof bags, which will avoid stains and prevent grease from seeping through.
Olà sheets, available in many different sizes, are perfect as a base for cutting boards or over plates to serve piping-hot pizza, whether whole, by the slice, or by the metre!
You can use Olà custom placemats to set the tables at your pizzeria or cafeteria, to give a touch of originality to your venue.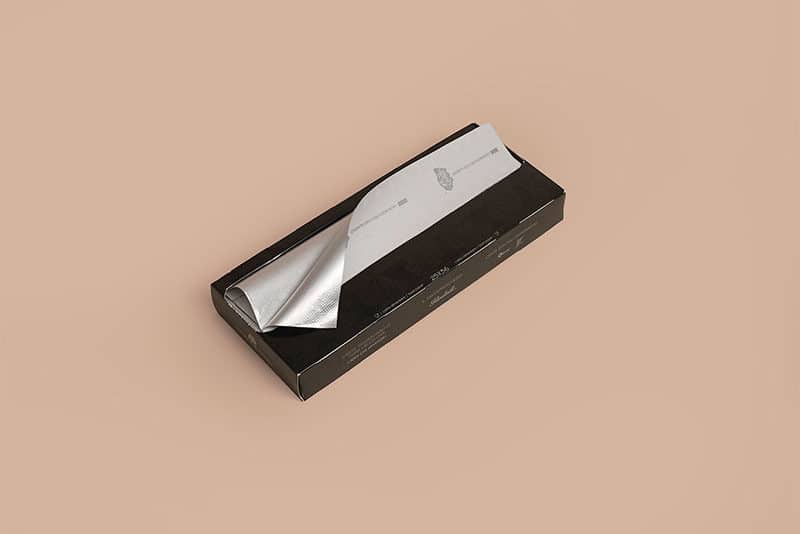 Easy Box, Esseoquattro wrapping paper in a smart dispenser
Easy Box means Esseoquattro wrapping paper in practical and hygienic dispensers, with a stylish and exclusive design.
It is available in three different sizes – 36×49 cm, 30×40 cm and 25×36 cm – and it is the ideal solution for small delicatessens with limited space for stock or that wish to offer certain products in limited quantities, and for food trucks that are always on the move between one event and another.
There are three products: Ideabrill fresh-preserver bag, Olà greaseproof packaging, and traditional plastic-coated paper.
Easy Box is a guarantee of maximum hygiene, because the sheets are contained in the dispenser and are extracted only at the time of use.
Wrapping paper is individually folded and the dispensers are designed to facilitate extraction.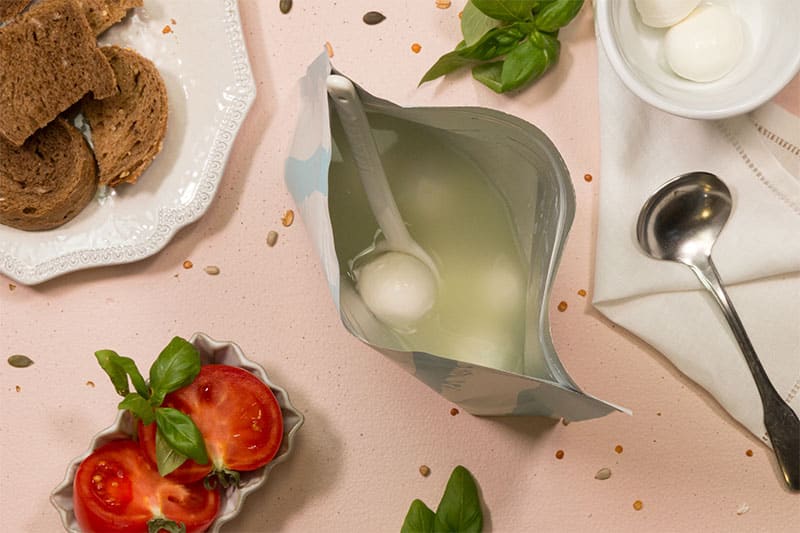 Zip & Strip, high-performing, personalised, unique packaging
Esseoquattro has always been committed to the study and development of high-performing packaging optimised for each type of food and able to successfully respond both to the changes in consumer habits and to the challenges of the market.
Zip & Strip is a line of multifunctional bags that are completely innovative, functional, especially curated in the design, and perfect to meet the needs of the Ho.Re.Ca. and Street food sectors.
This new range of packaging is high-performing because it combines a series of useful features – Zip or Strip closure, oval bottom or with 45- or 90-degree angles, handles, etc. – with the IdeabrillⓇ patented formula, which can maintain a constant temperature inside the bag for about an hour after packaging.
Do you want to try our products?
---