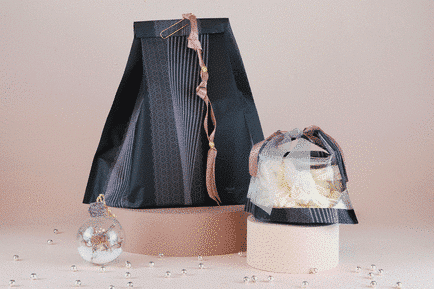 The ideal packaging
for bakery patisserie and confectionery products
Crispness, softness and "meltiness": when it comes to baked goods, bread, leavened and confectionery products, the textures to be preserved are various and all equally important.
You'll be able to offer high-quality products with fresh-from-the-oven flavour and aroma, or filled with delicate, scrumptious and strictly fresh creams, with a touch of originality and a generous dash of style: Esseoquattro packaging for bakery, patisserie and confectionery products let you do this…And much more!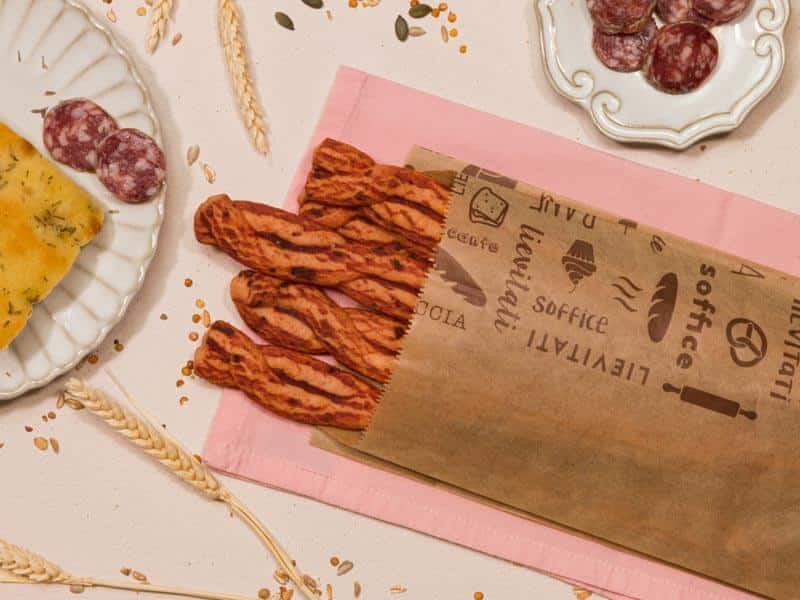 Packaging for baked goods: Olà and Glisser
Glisser is a white kraft greaseproof bag, and Olà is its counterpart in brown kraft. Both are particularly resistant to grease, but Olà is so resistant that it prevents even the formation of stains on the outside of the bag.
These packagings are therefore particularly suitable for baked goods such as bread, olive oil focaccia and croissants.
They are available in various sizes, from a bread bag to a 10x14cm bag, covering the whole range of baked goods, even take-away.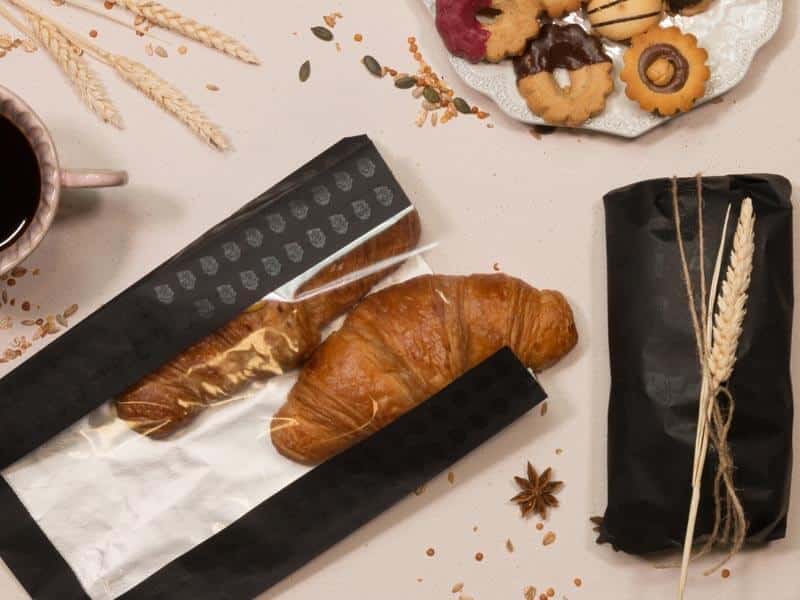 Coordinated Packaging for confectionery and patisserie
Ideabrill packaging offers the guarantee of their patented formula for the optimal preservation of confectionery and patisserie products.
The wrapping paper keeps a long-lasting crease and lets you quickly create beautiful and stylish packages. It is available in different colours: white, black and kraft brown, with different prints.
The Freshpreserver Bag and Freshpreserver Bag with Window are available as matching products to the wrapping paper; the Freshpreserver Bag with Window, thanks to its central or lateral window, shows off cookies, pastries and petit fours in all their deliciousness.
The Zip & Strip line is an innovative line of multi-functional, well-designed and stylish bags combining the fresh-preserving Ideabrill patented formula with a range of features, such as the oval bottom, rounded, 45- or 90-degrees corners, various-sized handles, and eyelets for ribbons.
With the many available sizes, the Zip & Strip bags can be used to package small confectionery and patisserie products – chocolates, meringues, biscuits – as well as leavened cakes, even large ones, such as the Easter Dove cake and Panettone.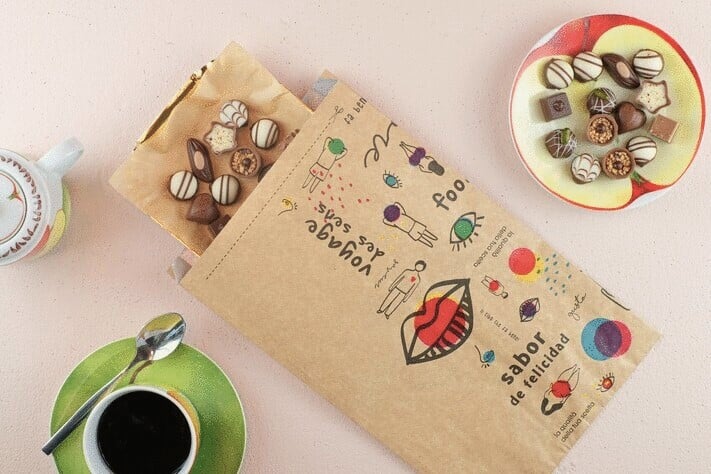 Sweets and confectionery bags
Thanks to their technical features, Ideabrill Freshpreserver Bag and Freshpreserver Bag Plus guarantee the freshness and protection of their contents: gummy sweets will remain soft for longer without drying off, while hard and crunchy sweets will retain their original consistency.
Chocolate
Once the bag is closed with a heat sealer, it can maintain the temperature constant for about an hour, ensuring safe transport of chocolates and sweets from the shop to the fridge, even in the hottest months.
The bags are suitable for storing food in the refrigerator, so they are perfect for keeping chocolate cool during the warmer months, and completely isolate it from other food smells, which the chocolate can absorb.
To store chocolate for longer periods, you can place it in the freezer.
Cookie bag
Ideabrill preserves the crispness and aroma of cookies, so they stay fresh and tasty for longer, as if fresh from the oven.
The Ideabrill Freshpreserver Bag with Window is a special bag with a central or lateral transparent window that displays the cookies in all their deliciousness.
It is available in various prints in black or white, which give a touch of class and elegance, or brown kraft, which enhances the craftsmanship of the product.
The Zip & Strip line combines the Ideabrill formula with a stylish design and a very useful set of features that facilitate packaging.
In this range, the most suitable cookie bags are Bag 31 with window, Bag 11 with Zip and Bag 13 with zip and eyelets for ribbons.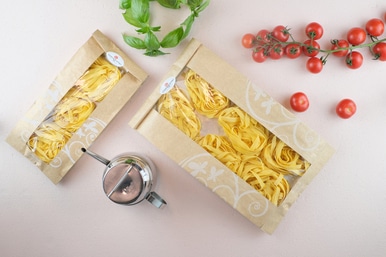 Dry pasta bags
Pasta is a central element of the Mediterranean diet and with its many different, fanciful formats, pasta is also beautiful to look at… so why hide it?
Ideabrill Freshpreserver Bag with Window is the most functional packaging for dry pasta because it is practical, and the bag stands out for its originality.
It is available in white, black, and brown kraft and a number of different prints or customised, and it can give your products a unique look in line with the image of your business.
The central or lateral transparent window displays the pasta and showcases the different product formats and varieties that you offer.
If you want to enhance the craftsmanship of your pasta, choose Freshpreserver Bag with Window in kraft brown; if you want a touch of class, opt for black or white versions.
Do you want to try our products?
---