---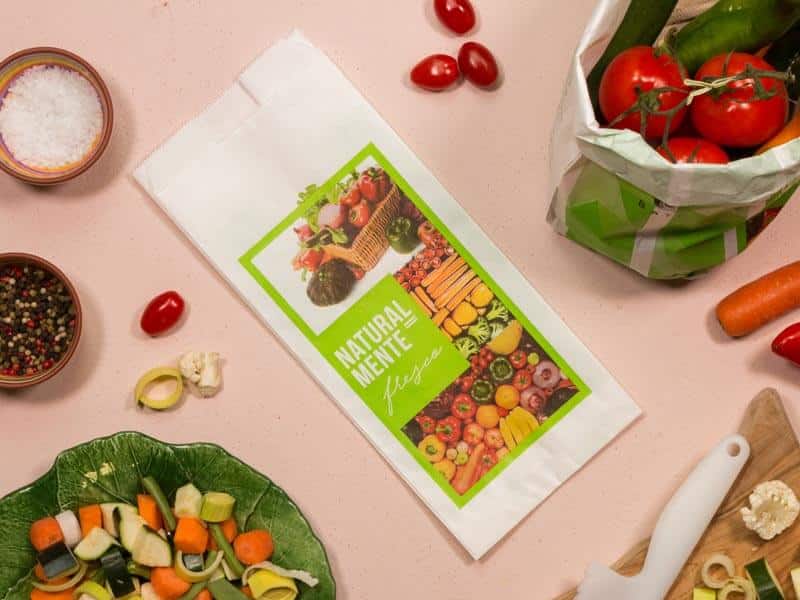 and Bate
keep fruit and vegetables as fresh as possible
Fruit and vegetables are foods with a number of health benefits and deserve a packaging that keeps them as fresh as possible, for as long as possible.
Whether produce is whole or peeled and cut, storage conditions vary significantly, and traditional kraft or alios paper cannot guarantee these conditions.
In this case, too, Esseoquattro has the right answer: exclusive Bate packaging, Ideabrill Freshpreserver Bag with Window and Ideabrill Freshpreserver Bag with Perforated Window can fully meet the demands of the produce sector.
BateⓇ, the strongest and most resistant
Especially designed as packaging for whole fruit and vegetables, Bate has significant technical qualities that make it an indispensable packaging for the produce sector.
It is made of pure long-fibre kraft pulp, which ensures excellent resistance to the weight of the vegetables and is wet resistant, assisting in proper preservation.
Being a paper packaging, Bate is excluded from the scope of EU directive 2015/720.
Moreover, in line with our philosophy of care and respect for the environment, we designed this packaging with an ambitious goal: to completely replace the plastic trays used for the transport and sale of pre-packed produce.
Sustainability is an express need for the end user; a company's competitiveness depends on its ability to respond to these demands, which determine the level of customer loyalty.
That's why switching to Bate will not only make you really eco-friendly, but will set you apart and make you more competitive among your competitors.
For pre-cut fruit and vegetables, choose IdeabrillⓇ Freshpreserver Bag with Perforated Window
Today's hectic life often does not let us devote the time that we would like to cooking, and sometimes makes us snub healthy and nutritious dishes, such as vegetable soup or fruit salad, because their preparation requires a bit of patience and time.
Greengrocers who wish to help their customers and offer an additional service now can count on a precious ally: Ideabrill Freshpreserver Bag with Perforated Window, perfect to hold and preserve cut and peeled fruit and vegetables and pre-washed, ready-to-use lettuce.
---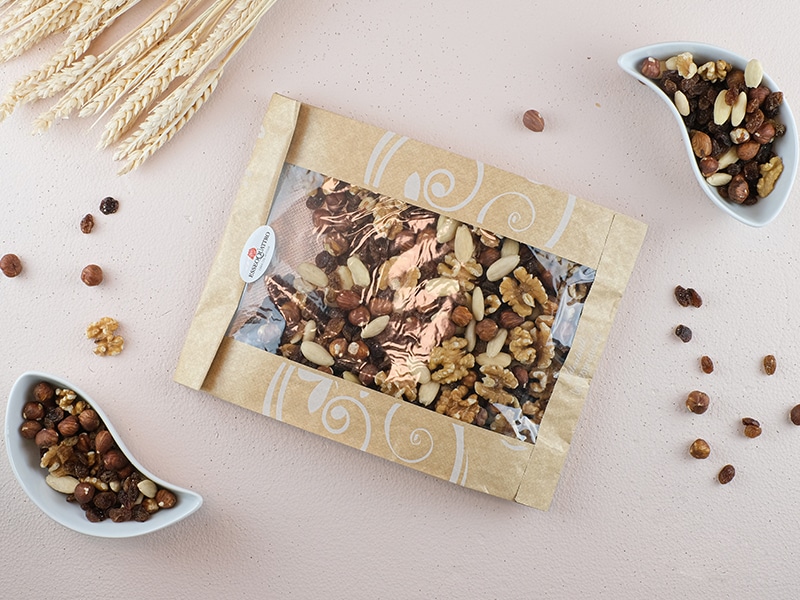 IdeabrillⓇ for nuts, craftsmanship and style
With Ideabrill Freshpreserver Bag with Window, you can package nuts with style and a touch of craftsmanship.
It is available in black and white (if you want a stylish accent) or in brown kraft, which enhances the craftsmanship of the product.
The transparent central window displays the nuts, drawing consumers' attention to the shelf where they are displayed.
With a variety of available colours and prints, you will be able to create attractive, impressive packages and delightful Christmas baskets.
Customers who have tested this type of packaging and compared it with traditional plastic bags have reported an increase in sales because this packaging communicates higher product quality to the consumer.
Do you want to try our products?
---