---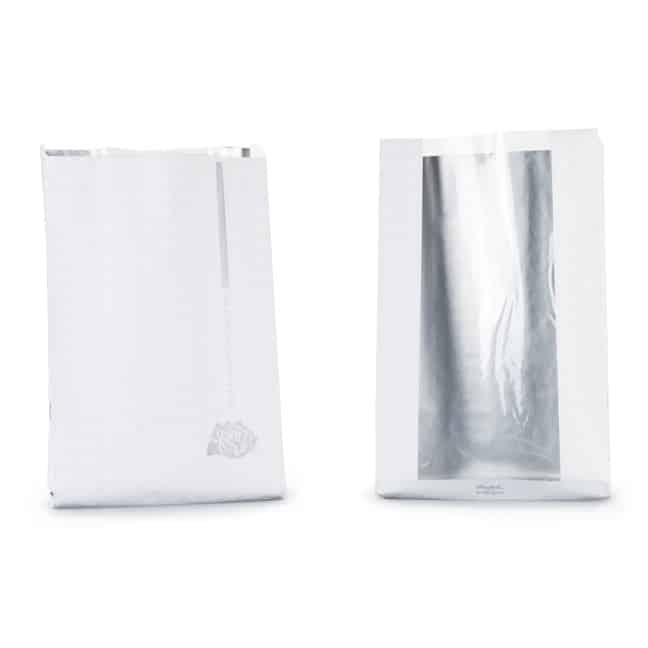 Flavour Window Bag
shows off your products
Ideabrill® Central or Side Flavour Window Bag is the ideal bag for foods that are not sensitive to light; it displays the products effectively and in style while preserving their freshness and increasing the quality perceived by the end user.
The evolution of window paper bags
Ideabrill® Flavour Window Bag is much more than a traditional window bag.
It is suitable for direct contact with food and safe for the health of the consumer.
It's made of pure long fibre kraft pulp coated with a special film treated according to our patented formula, which protects food and preserves its freshness.
In addition, it is heat-sealable, which further guarantees the isolation of its contents from external agents.
Ideabrill® Flavour Window Bag is available in white, black and brown kraft with our stylish default prints, but can also be customised with your brand and in line with your corporate image.
Flavour Window Bag: Classic or Perforated?
Every food needs the right packaging: this is the principle that inspires all of our innovations.
For Ideabrill Flavour Window Bag we designed two window variants, depending on the characteristics of individual foods and their different storage requirements.
The classic Ideabrill Flavour Window Bag is perfect for cheese and meat, but also pastry trays, petit fours and nuts.
It is also a practical secondary packaging option for vacuum-packed cheese, ham and speck, offering an additional service to the end user.
Ideabrill Flavour Window Bag is suitable to store food in a refrigerator; therefore, once the vacuum pack has been opened, the consumer can use I to store leftovers.
The Ideabrill Perforated Flavour Window Bag has been designed specifically to meet the storage needs of pre-cut, peeled fresh produce and of all those foods that need to "breathe", such as salami; it protects them from being touched to ensure total hygiene.
IdeabrillⓇ Flavour Window Bag and the environment
In line with the company's green philosophy, to be really environmentally friendly we recommend that you separate the paper, the treated film and the central window film and recycle them respectively with paper and plastic.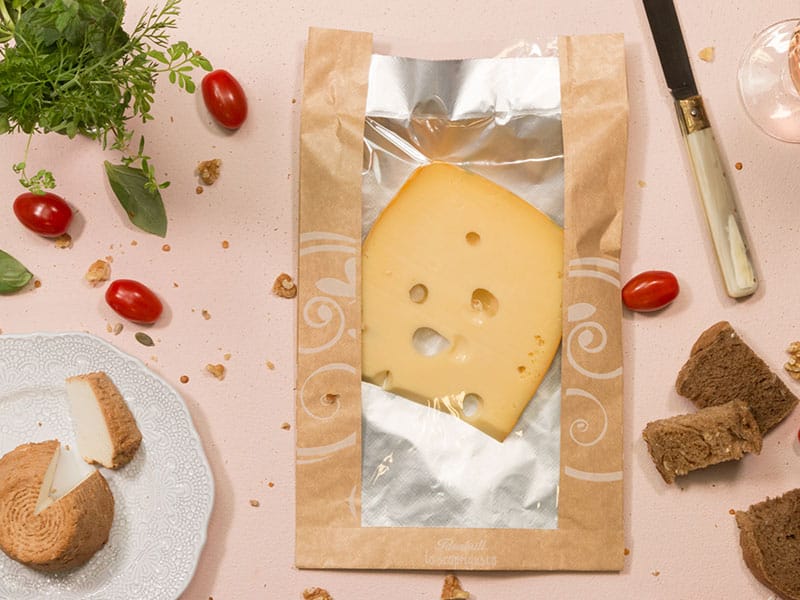 Cheeses
The Flavour Window Bag is a fresh-preserver packaging for cheese and for vacuum-packed cheese, which displays the food effectively and preserves it properly, maintaining their characteristics.
It can also be heat-sealed for maximum health protection for the consumer. It can be used as primary packaging to store cheese in the fridge, or to store vacuum-packed cheese after the package has been opened.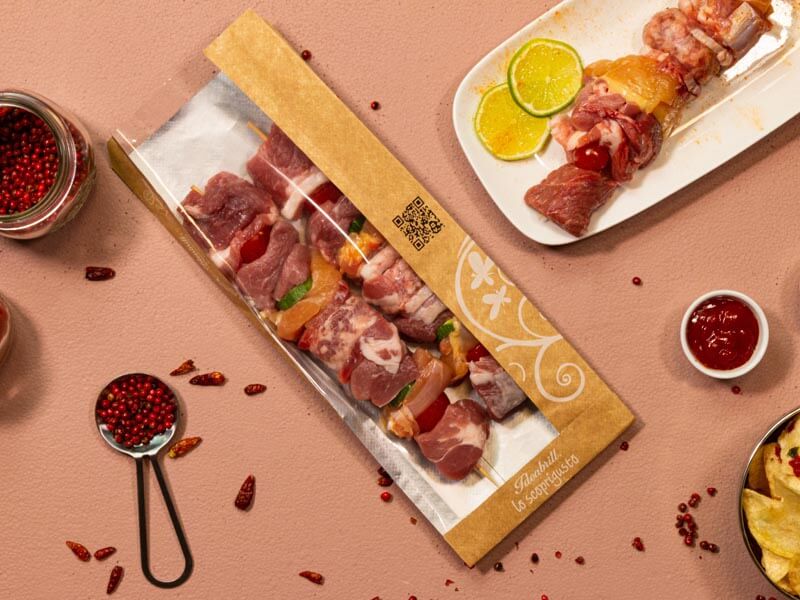 Meat
The Flavour Window Bag is ideal for containing meat: it protects it from deterioration thanks to the patented fresh-preserving formula and, at the same time, it displays it effectively, thanks to the transparent window that shows it in all their succulence.
Confectionery and Patisserie
Ideabrill preserves both the texture and aroma of confectionery and patisserie products, from cream-filled pastries, to petit fours, to chocolates, and the Flavour Window Bag displays them effectively and in style.
It is available in different colours: white, black and kraft brown, with various prints to match the Fresh-Preserver Bags and wrapping paper.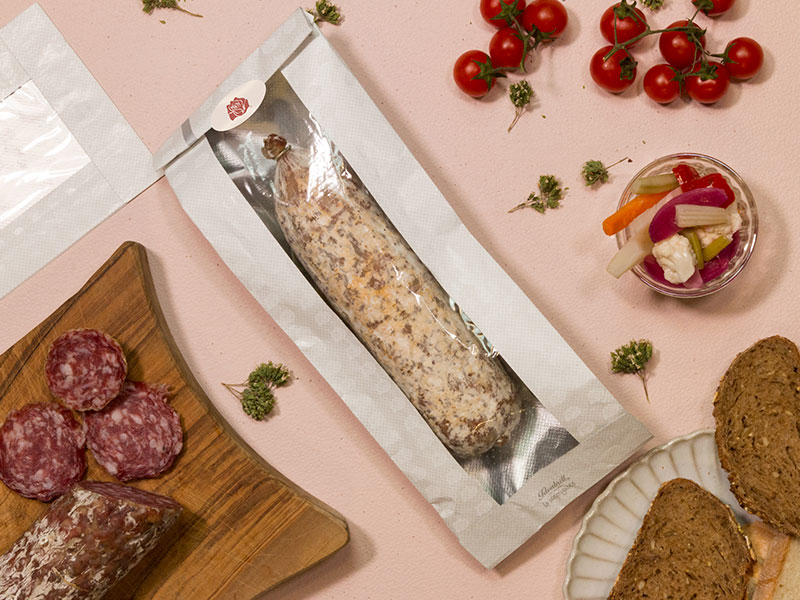 Cold cuts
The Perforated Flavour Window Bag is ideal to hold and store cold cuts because it allows the food to "breathe" and at the same time it protects it, ensuring hygiene.
The end user can also use the Perforated Flavour Window Bag to store salami in the refrigerator.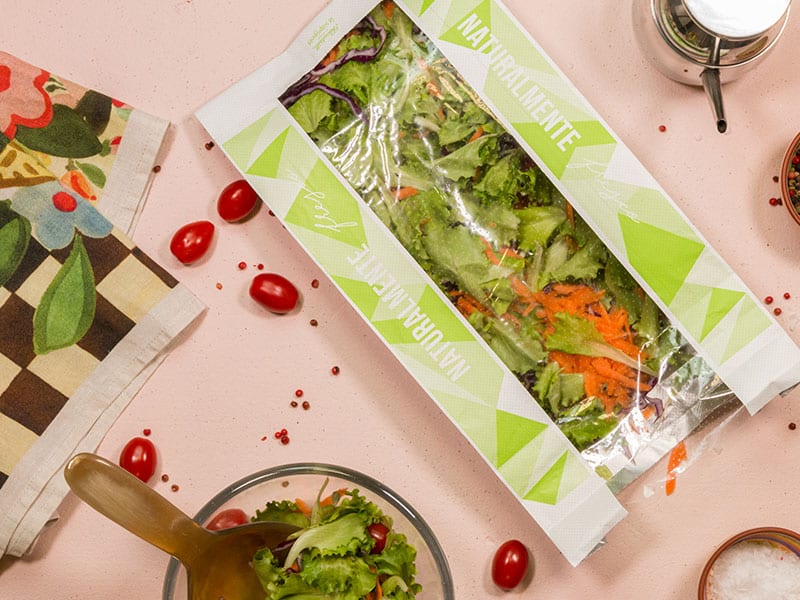 Produce
Today's hectic life often makes us snub a hearty vegetable soup or a healthy fruit salad because their preparation requires some time.
Greengrocers who wish to help their customers now have a precious ally: Ideabrill Perforated Flavour Window Bag, perfect to hold and preserve fresh fruit and vegetables that have already been cut and peeled.
Do you want to try our products?
---